VPN SET UP ON MAC OS (L2TP/IPSEC)
1. Open the System Preferences window.
2. Click on the "Network" icon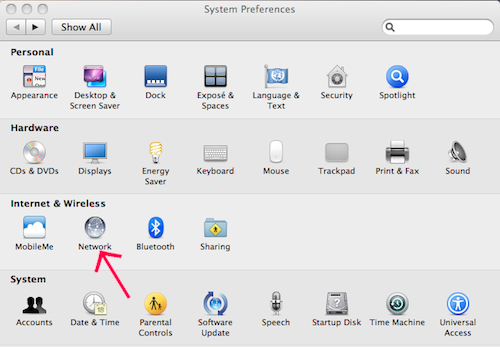 3. Click on the Add button (+).

4. Set the"Interface" as VPN, VPN Type as L2TP over IPSec and type Service Name: VPN01. Then click on "Create".

5. Highlight the VPN connection on left side. Enter Server Address (depends on which server do you wish to connect to, server list is in Members Area or in your mailbox – welcome email). Enter your VPN01 Account username, then click on the "Authentication Settings" button.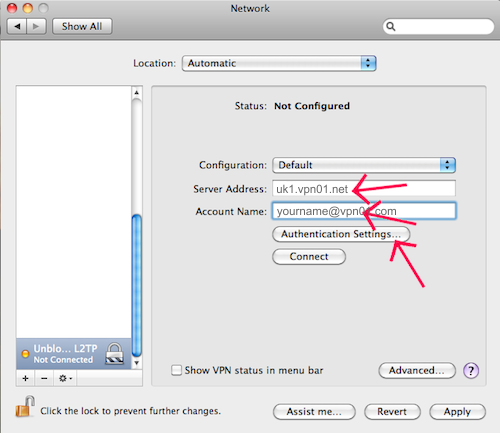 6. Choose "Password option" and type your VPN01 Account Password. Choose "Shared Secret" and enter secret code which you can see on the image below. Then click on "OK".
7. Click on "Advanced…".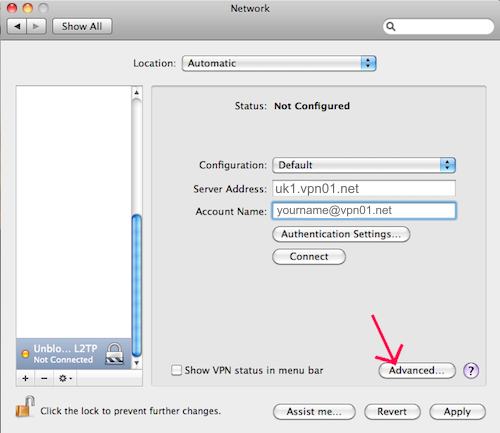 IMPORTANT PART! Sending ALL traffic via VPN
8. Enable "Send all traffic over VPN connection". and click "OK".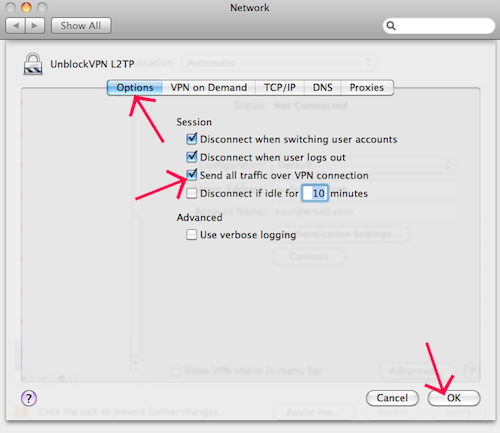 9. Connect your VPN by clicking on "Connect".
OUR VPN SERVER LIST
SELECT A UK SERVER FOR UK TV APPS & SERVICES, A US SERVER FOR US TV APPS AND SERVICES AND THE P2P SERVER FOR DOWNLOADING TORRENTS

uk1.vpn01.net (London, GBR)
uk2.vpn01.net (London, GBR)
uk3.vpn01.net (London, GBR)
uk4.vpn01.net (Hampshire, GBR)
uk5.vpn01.net (Hampshire, GBR)
uk6.vpn01.net (Hampshire, GBR)
uk7.vpn01.net (Coventry, GBR)

us1.vpn01.net (NYC, USA)
us2.vpn01.net (NYC, USA)
us3.vpn01.net (Los Angeles, USA)
us4.vpn01.net (Denver, USA)
us5.vpn01.net (Dallas, USA)
us6.vpn01.net (Chicago, USA)
ca1.vpn01.net (Toronto, Canada)
se1.vpn01.net (Stockholm, Sweden)
nl1.vpn01.net (Amsterdam, Holland)
de1.vpn01.net (Frankfurt, Germany)
sk1.vpn01.net (Bratislava, Slovakia)
il1.vpn01.net (Tel-Aviv, Israel)
p2p.vpn01.net (Torrent Server)

ONLY DOWNLOAD TORRENTS WHEN CONNECTED TO OUR P2P SERVER
CONNECTION NOT WORKING? IKEV2 CONNECTION (CLICK HERE)

NOTICE: Remember DO NOT DOWNLOAD TORRENTS when connected to any of our VPN servers except our Swedish server. Always remember to quit applications such as BitTorrent & UTorrent when connecting to our UK & US VPN servers.
Failure to do so can result in temporary account suspension, always read our terms.